A Look Back at Kosovo's Trepca Mines


by George Kosich


July/August 1999, vol. XV, no. 6
The Stari TrgMine at Trepca, one of the most productive lead and zinc mines in Europe, c. 1938. At that time it belonged to an English company, Trepca Mines, Ltd.
An application for employment at Trepca Mines in Kosovo was made by Dimitrije K. Kosich in May of 1932. Kosich was a recent returnee to Yugoslavia after having lived in the United States since 1903. He was a skilled blacksmith whose experience in mine drill sharpening included the mines in the Upper Peninsula of Michigan's Gogebic area, the Iron Range of Minnesota, and Montana.
Kosich's application was rejected on the 21st of May in 1932, with a typewritten letter in English on stationary with the heading TREPCA MINES, LIMITED, and signed by Wm. Campbell. The English management is obvious.
During the inter-war period, like almost all the past, foreign powers controlled Kosovo's rich ore mine at Trepca. Such has been the case almost since the Romans discovered and developed the valuable ore mines of Kosovo.
For hundreds of years, Kosovo's Trepca mine at Zvecan has yielded lead and silver ore, but one of its rarest commodities, crystals, was not discovered until the mines reached deep underground.
Crystals, which are created by volcanic heat and extreme pressures, are recognized as one of nature's rarest artifacts. In varied, brilliant colors and sculptured geometrical shapes, more than 1,800 crystal specimens were displayed in the Stari TrgMine Museum near Kosovska Mitrovica. In addition, Trepca's crystals are valued highly by museums all over the world.
After the Battle of Kosovo in 1389, the Ottoman Empire ruled the area for 524 years. During World War II, Kosovo was occupied by the armies of Germany, Italy and Albania, but the Trepca mines were owned by German Luftwaffe Marshall Hermann Goehring's private company. At the present time, the mines are in NATO's French-controlled zone.
Unlike management, the miners of Trepca have been primarily from the Balkans: Orthodox Serbs from Serbia and Kosovo; Orthodox Serbs from Montenegro; Orthodox Serbs from Lika, in the Krajina; Albanians of the Catholic, Orthodox or Muslim faiths; Catholic Croats from Croatia and Dalmatia; and Muslim Bosnians, as well as Orthodox Russians, all found employment extracting lead, zinc, copper, silver and gold ore from mines in the Kosovo-Metohija area. These mines are the largest in Yugoslavia and among the largest in all of Europe.
The letterhead from 1932, shown below, confirms that one of the mines was called Stan Trg. In her book Black Lamb and Gray Falcon,author Rebecca West visited Trepca and questioned her English guide about the name, which everyone concedes should be Stari Trg,or "Old Market," rather than Stan Trg.His explanation was: "...it is simply a mistake. Somebody copied the name wrongly when the mine was started, and nobody about the place knew enough Serbian to correct it. But it ought to be Stari."
The importance of the mineral deposits in Kosovo obviously outweigh any linguistic trivia, and one can be sure that, regardless under whose control, the rich mines of Kosovo will continue to be of vital political and economic interest to Yugoslavia and Europe for some time to come.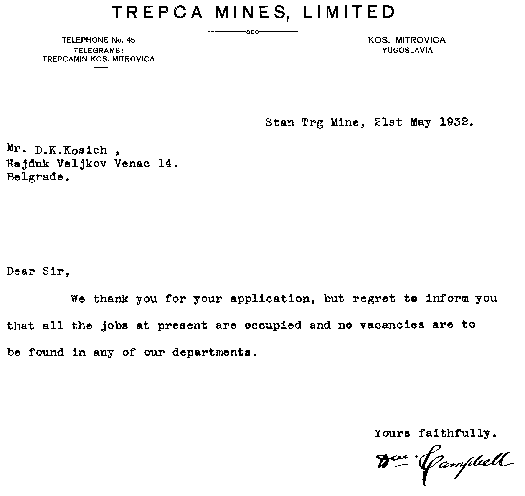 All rights reserved. No part of this publication may be reproduced without the express written permission of SERB WORLD U.S.A. Copyright 1999 by SERB WORLD U.S.A.

---